Advertise that You're Open for Take-out Orders
Due to the current situation, Covid-19 is closing restaurants for dine-in orders. Many restaurants are looking for take-out orders to help bring some revenue. We know the restaurant industry is hurting at the moment but most are doing everything they can to keep the doors open.
As I travel to my local my food spot, I notice that there is no one parked in front and the light seems off. I take the chance and walk up to the front door. To my surprise, the place is open! However there was no signs, banners or any advertising that the restaurant is open for take out orders. I was the only one there the whole time it took the staff to prepare my take out order.
That left me thinking, why didn't they have a banner? I felt if they had a banner hanging it might help get more take out orders. I realize it costs money to make money but if there is no money, there is no way to make money. We understand, we are all the same boat.
So we decide to make the process easy and as cheap as possible for us to offer it. We offer to ship NATIONWIDE free shipping! Below are the templates for the our banners to give you more options to choose which one is best for your business.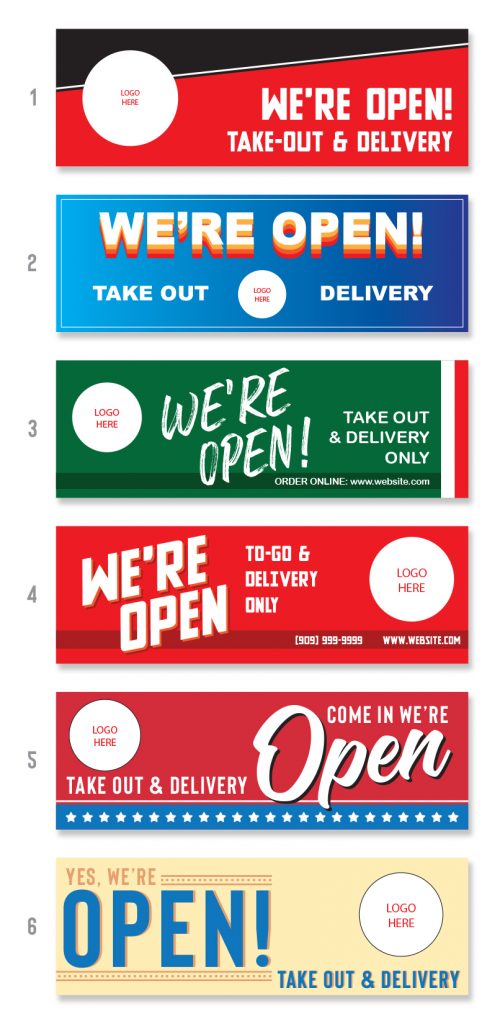 We are offering a premium heavyweight 13 oz. scrim vinyl banner. There is a grommet on the corner and every 2′ feet.
2′ x 6′ Banner for $40 – FREE UPS GROUND SHIPPING
3'x 8′ Banner for $60 – FREE UPS GROUND SHIPPING
What to do next:
Send us an Email at Info@J6designs.com with the following information
What size are you looking for?
What Template do you like?
Send us your logo!
How many banners would you like?
What address should we ship it to?
What we do:
We will send you to invoice for the banner(s)
We will need a full payment for the banner
After that, our Artwork Department will send over a proof
Check the spelling, logo and any information and make sure it's correct.
Send over your approval or changes to the art department. We will work the design until you are happy.

Not interested in these banners?
There are unlimited options but they will cost more than the special we have now.
We can make a custom design for you! Let us know what you what your banner to say.
We can make any size you need!
We can offer different finishing options, such as Pole Pocket, Velcro, Windslits, Webbing, Rope, etc.
What can J6 designs do to help if you need help?
We can design your banner for free! Maybe you have a better route to print your banner but in need on the designs. Follow "What to do next" Steps 1-4
Let us know what you can pay. If you are all low in funds maybe we help can print it at a reduced cost.
What we are limited to:
Only in the continental United States, please.
No Hawaii or Alaska ( sorry the shipping would cost more than the banner itself)
No returns are available unless the banner comes physically defective.
As of now, this is until 4/30/20