Attention Parents and Family
Want to celebrate your someone's graduation?
Due to the current situation, Covid-19 had closed all the schools. This unfortunately means there will be no graduation ceremonies for this academic year. That is leaving a lot of kids not having their graduation walk from years of hard work. One way you can celebrate their graduation is letting them know you are thinking about them and how proud you are of their academic accomplishments. By posting a sign, you can show how proud you are of your graduate while having a physical memento of this crazy year.
That left me thinking, why not a yard sign? We have seen yard signs used for sport celebration, award winners and so much more. Graduation signs can be a small gesture on your part to show how proud you are of your graduate of all the effort they did during their academic careers.
We decide to make the process easy and as cheap as possible for us to offer it. We offer to ship NATIONWIDE free shipping! Below are the templates for our graduation signs to give you more options to choose which one is best for your graduate student.
We are offering a premium corrugated plastic sign using 4mm White Coroplast material. Each sign comes with a FREE metal "H" stake to use on a yard.
18"x 24": $45 1st sign, additional signs $30.00ea – FREE UPS GROUND SHIPPING
24" x 36": $80 1st sign, additional signs $45.00ea – FREE UPS GROUND SHIPPING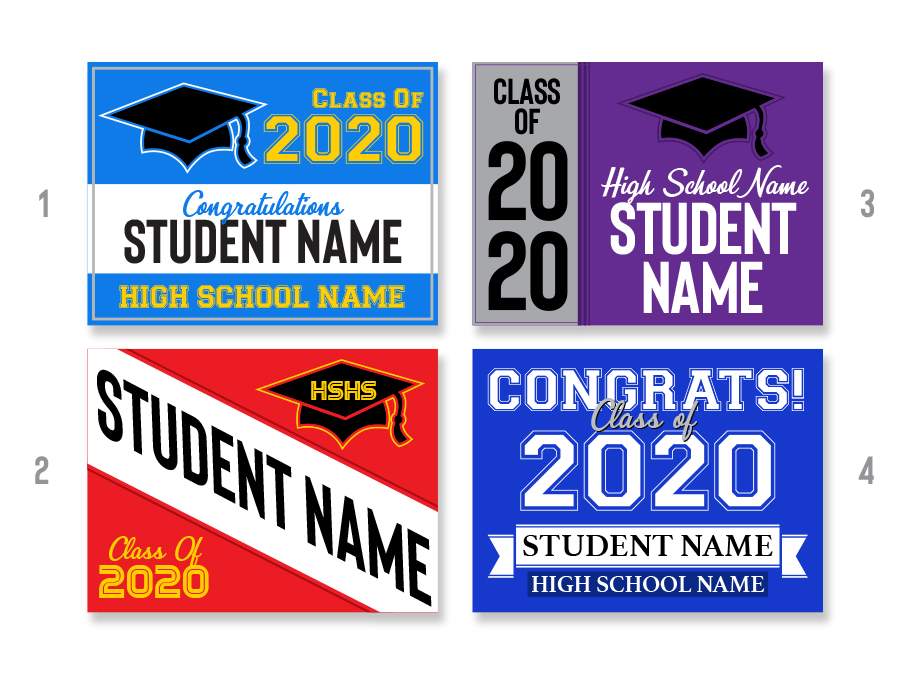 What to do next:
Send us an Email at Info@J6designs.com with the following information
What size are you looking for?
What template do you like?
Send us any additional information you want on the sign?
How many signs would you like?
What address should we ship it to?
What we do:
We will send you to invoice for the sign(s)
We will need a full payment for the sign.
After that, our Artwork Department will send over a proof
Check the spelling, logo and any information and make sure it's correct.
Send over your approval or changes to the art department. We will work the design until you are happy.
Not interested in these Graduation Signs?
There are unlimited options but they will cost more than the special we have now.
We can make a custom design for you! Let us know what you want your signs to say!
We can make any size you need!
What we are limited to:
Only in the continental United States, please.
No Hawaii or Alaska (sorry the shipping would cost more than the signs itself)
No returns are available unless the sign comes physically defective.