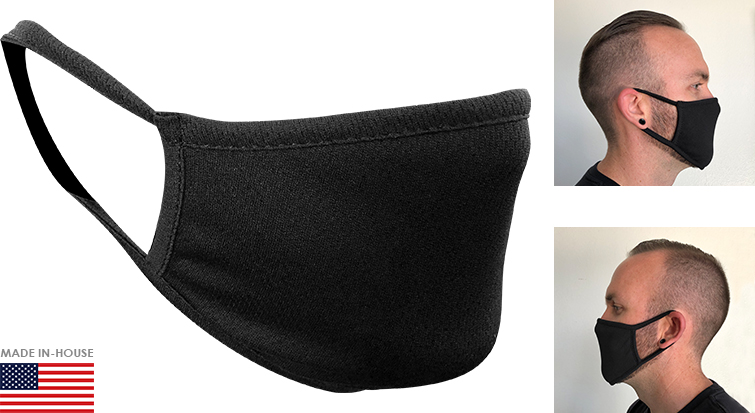 Model is wearing Medium Mask
The Jasper is the second mask that we have gone into production with. This is our economy mask at a less expensive price than the Hopper, but is still made with the highest quality. We've continued production in-house at our warehouse in Ontario, CA.
The double layer, one-piece construction is a simple yet effective way to keep yourself and others safe. Like our other face coverings, these may be purchased blank, or customized with screen print or embroidery (dye sublimation coming soon).
Mask Specifications
Material Colors
Black and Navy fabric is available for most orders and we plan to expand our selection in the future. We maintain stock of black masks daily, however navy masks are made to-order as we do not keep extra inventory of those at this time.
Custom colors (available on orders of 800+ pieces): Red, White, Burgundy, Cardinal, Gold, Purple, Yellow, Canary, Pink, Fuschia, Denim Blue, Teal, Neon Orange, Neon Yellow, Neon Blue
Size Information
Three sizes available:
Small – Medium – Large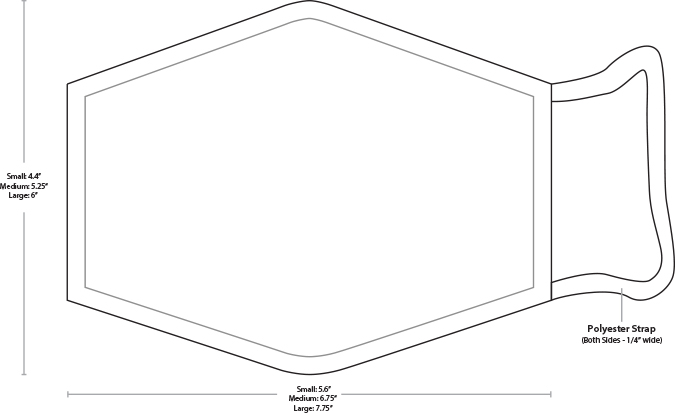 Material Information
All masks have 2-layer construction and include elastic straps for a comfortable fit.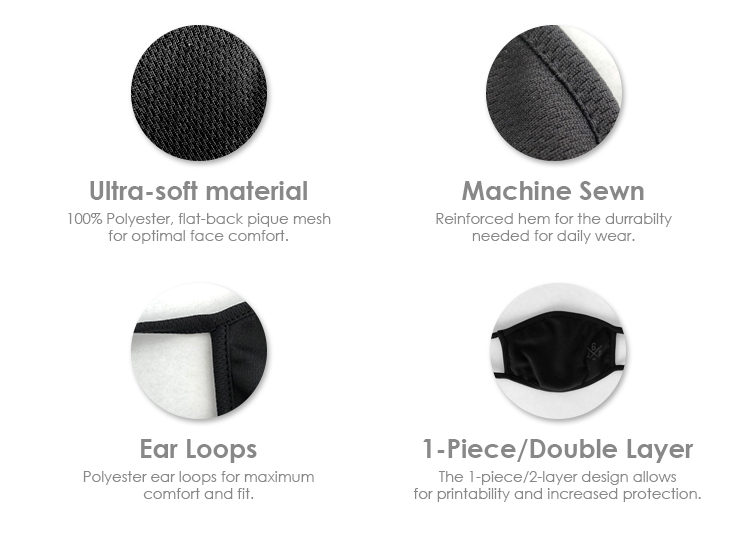 Double layer
100% Polyester
Flat back pique mesh
Care instructions: These masks may be machine or hand washed. We recommend hang drying.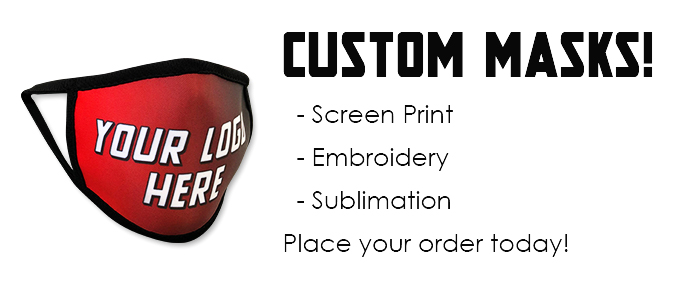 Visit our Gallery Page for samples of customized masks.
Purchase blank masks below, or click here to place an order for custom printed masks.
1-Pack $7.00 [wp_cart_button name="Jasper (1)" price="7.00″ var1="Size|Small|Medium|Large"]
2-Pack $13.00 [wp_cart_button name="Jasper (2-Pack)" price="13.00″ var1="Size|Small|Medium|Large"]
6-Pack $36.00 [wp_cart_button name="Jasper (6-Pack)" price="36.00″ var1="Size|Small|Medium|Large"]
12-Pack $66.00 [wp_cart_button name="Jasper (12-Pack)" price="66.00″ var1="Size|Small|Medium|Large"]
24-Pack $120.00 [wp_cart_button name="Jasper (24-Pack)" price="120.00″ var1="Size|Small|Medium|Large"]
50-Pack $237.50 [wp_cart_button name="Jasper (50-Pack)" price="237.50″ var1="Size|Small|Medium|Large"]
100-Pack $450.00 [wp_cart_button name="Jasper (100-Pack)" price="450.00″ var1="Size|Small|Medium|Large"]
250-Pack $1,000.00 [wp_cart_button name="Jasper (250-Pack)" price="1,000.00″ var1="Size|Small|Medium|Large"]
500-Pack $1,875.00 [wp_cart_button name="Jasper (500-Pack)" price="1,875.00″ var1="Size|Small|Medium|Large"]
1000-Pack $3,500.00 [wp_cart_button name="Jasper (1000-Pack)" price="3,500.00″ var1="Size|Small|Medium|Large"]
2500-Pack $8,125.00 [wp_cart_button name="Jasper (2500-Pack)" price="8,125.00″ var1="Size|Small|Medium|Large"]
5000-Pack $15,000.00 [wp_cart_button name="Jasper (5000-Pack)" price="15,000.00″ var1="Size|Small|Medium|Large"]