Order your Sneeze Guard Today
Does you business need a sneeze guards for your counter tops? We can now fulfill your sneeze guard orders. We do need 1 business day to build and cut it. Please check our different sizes and pricing for each one.
With the current health situation, businesses are taking the necessary precautions to provide the best possible way to keep their clients and staff members safe. Face masks do provide a form of defense however this might not be enough. In order to provide a peace of mind for you and your clientele, providing another form of defense will not only good for your staff and clients but also your business all around. By installing sneeze guards, not only are you upping the defense for keeping your staff save but you're keeping your clients! Having sneeze guards in your business will help keep a safe place for your clients to feel comfortable and shielded in this uncertain times. Not only that, by installing sneeze guards, you are showing your clients that you care of not only your business but of your clients as well. Show that you care by installing sneeze guard in your business to keep everyone save and stop the spread of this novel pandemic.
To Purchase our sneeze guards:
You can call in for your order or place your order online.
Delux Guard
Our Delux Guard is 36″ H x 20.26″ Wide – Window Slot: 3.5″ H x 8″ wide
One piece, 3/16″ thick clear acrylic with heat bent sides and base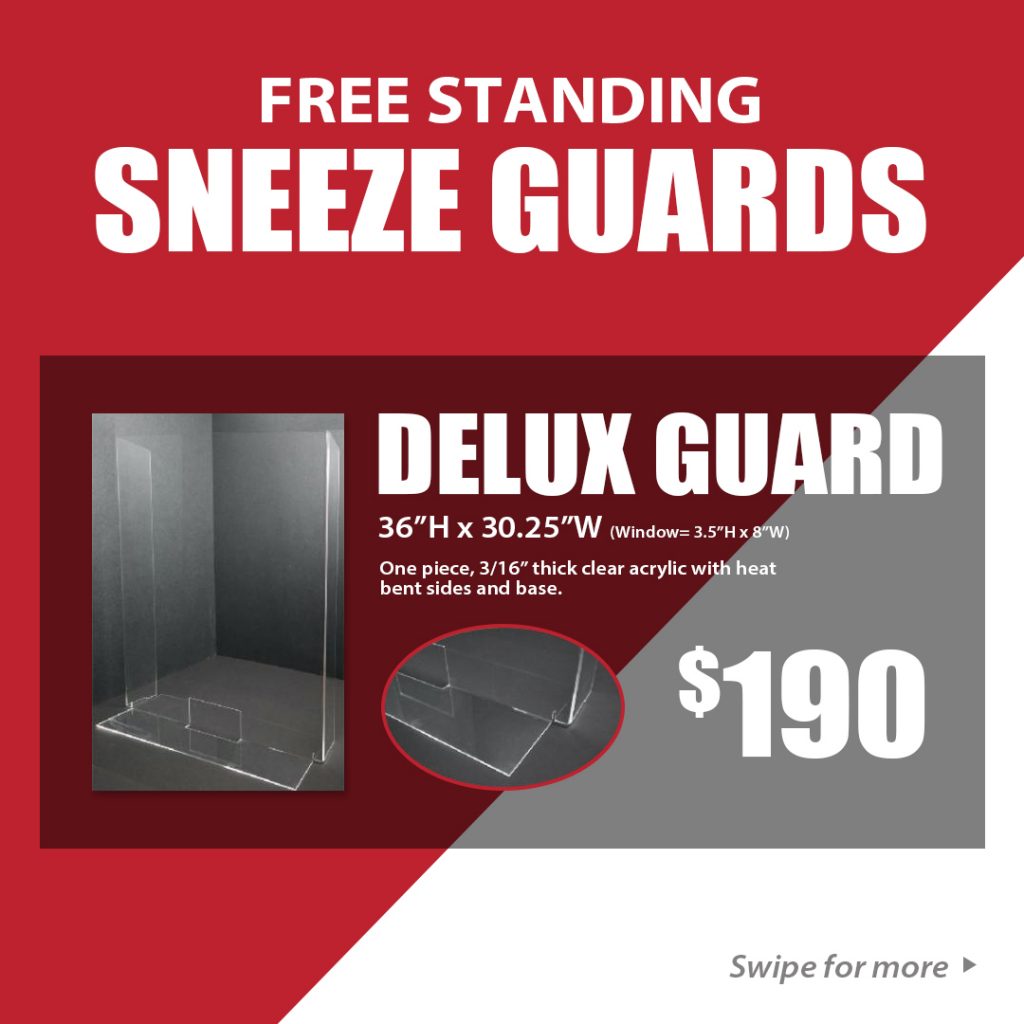 Econo Guard
23.5″ H x 31.5″W -Window= 4″ H x 10″ W
Face is 1/8″ thick clear acrylic. Feet are 3/16″ thick clear arylic.
Removable stands slide in & out for easy assembly and storage.
Regular Guard
42″H x 23.5″W -Window = 5″H x 7″W
Face & Feet are 3/16″ thick clear acrylic
Removable stands slide in & out for easy assembly and storage