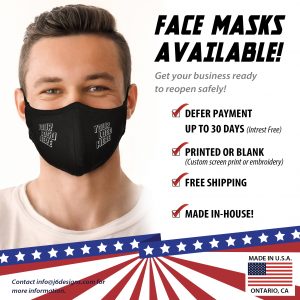 We know you're ready to go back to business as soon as possible. But will your employees or customers have face masks at your business location to wear? Do you have a retail store where it would be essential for your business to have a customer purchase face mask from you? Businesses such as beauty salons, barbershops, restaurants, bars and breweries, supermarkets, etc where there is more human interaction will need protection to stop the spread of COVID-19.
We can offer a blank or custom made mask for you! We know the main issue, how can you spend money if you haven't made money lately? We completely understand this dilemma since this novel virus halted a lot of small businesses and we want to help. We created a Face Mask Pay Later Program. You can order now, we create masks and you can pay 30 days after your business reopens or the official county notice that business can be open.
Rules and Guidelines.
Offer is only for Small Business Only.

There is a limited amount of masks we have, so we love to offer this program to every business but we can't. The program might end earlier due to demand.

Only Available for the Jasper Mask.

Offer is only up to 6/30/20

One person/business can apply for 1 Pay Later program.

24 custom printed face masks per business.

If you need more than 24 pcs, the difference including the setup/digitizing is due prior to the job.

We reserve the right to refuse an order for any reason.

FREE Shipping using UPS ground and USPS, our choice.
What to do next:
Please fill out the Jasper_PO.

Send the form to

Info@J6designs.com

and send over any art files or logos you may have.

We will review and send over an official Quickbooks Estimate. Please review and make sure it's what you like to spend. We might reply back with questions we might have.

Reply back and let us know you agree.

We will convert the estimate to an invoice and send that over. Don't worry about paying right now. But you do have the pay link when you are ready.

You will receive an email from our production software on an estimated turnaround time.

We will process the order and send over a proof to you.

Review and make sure the color, size, and location is correct.

Reply with changes or approvals. Once it's approved we get your order moving in the scheduling queue.

Once we complete the order, we will ship out, resend the invoice and send over an email letting you know it's done.

Contact us for any issues or concerns.We hope you love your masks!

If you can pay earlier, that would be amazing but if not please pay within the 30 days.